It's okay to take a break if you need it, little chicken.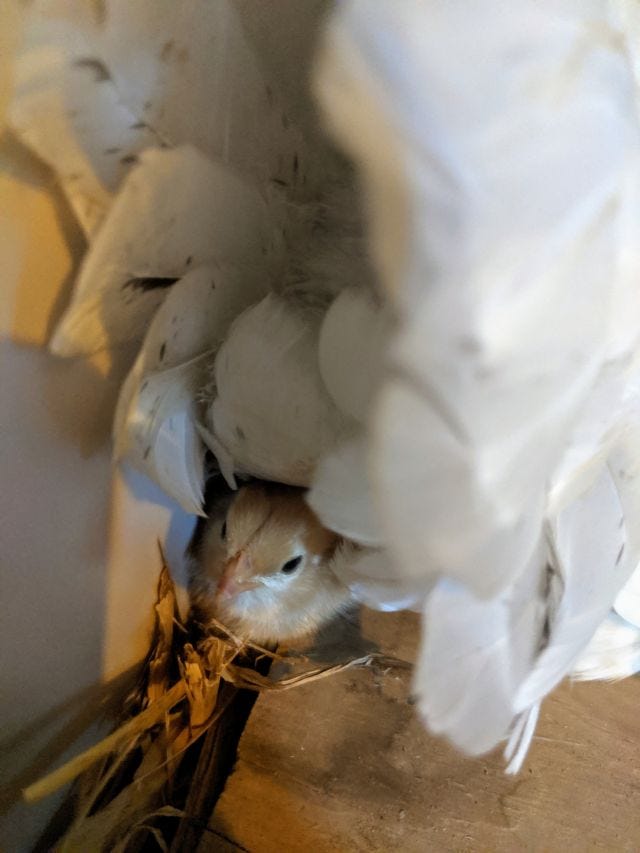 The world may feel big and terrible and overwhelming right now, but you are not alone in it. May you find something today that feels as comforting and safe as a big 'ol mess of tail feathers. And, when you're ready, may you be that soft, warm, safe place for someone else in need.
Here's What's Happening On Good Spirits Farm
Reinforcements have arrived! My parents are sheltering in place on our farm, and they've been hard at work in the garden. The green onion, turnip, radish, leek, and beet seeds are all in, thanks to them!

Our bees are loving the early spring weather. We expect one hive to split in the next week or so. We've set up a brand new, empty hive box in hopes they'll make that (and not some really inconvenient spot) their new home.

All the fruit trees we planted last year (apples, pears, peaches, plums, and sour cherries!) made it through the winter. It will still be years until we can enjoy their fruit, but it's so awesome to see leaves emerging on what last year just looked like sad, dead sticks! Life persists, y'all!
We hope you all are healthy and safe during this really hard time. We know how lucky we are to have a farm to distract us and grant us a tiny bit of food security in an uncertain time. Please feel free to contact me (you can reply directly to this email or hit me up on Twitter, Facebook or Instagram) if you need advice on veggie gardening, sourdough baking, chicken keeping, or any other homesteading skills that might be useful.