Discover more from AffirmationChickens
Your positive poultry message
Over 2,000 subscribers
Flock together, even when you're apart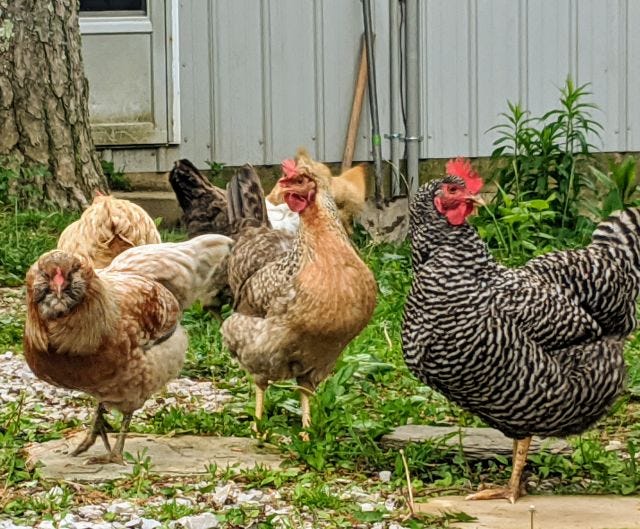 Friendship will get us through this. Call your squad. Tell them you love them. Ask if they need any mealworms. And know that you're never truly alone, even if it seems like it right now.
Here's What's Happening At Good Spirits Farm
The mobile chicken tractors are built, and in a perfect world, the new chicks and baby turkeys would move out onto our pastures today. However: It won't quit raining, and that dampness wouldn't be good for their little fluffy bodies. So they're stuck inside for at least the next few days. They're getting big and learning to fly and creating a big mess, so I think everyone is ready for them to leave the nest!

Swiss chard, broccoli raab, radishes, and peas are all ready for harvest. The strawberries have blossoms on them, which means it won't be long until we're feasting on berries (if the birds and squirrels don't get them first).

Despite my best efforts to save them, the eggs our broody hen abandoned didn't make it. I let them go a full 24 (maybe even 25) days in the incubator with no signs of life. It was hard to give up on them, but that's farming.

Since we don't have a hen that wants to raise babies, I guess I'll be doing it. I put 20 eggs in our incubator yesterday, including one from my beloved Heebeejeebees. Keep your fingers crossed for chicks in 21 days.